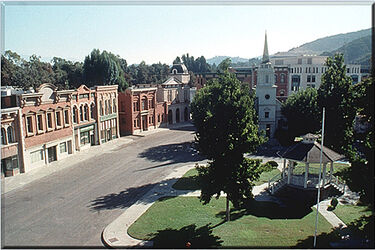 Ashford Falls is a village in Warren County, New York at the northern tip of the Adirondack Mountains forty miles north of Albany on Interstate 87. Located on the NYC-to-Vermont route, the village and the surrounding area is a famous summertime tourist region and summer colony surrounded by lakes and ravines with boating, horseback riding and camping retreats.
History
[
]
Ashford Falls is a summer resort town in Warren County, New York on Route 12 which splits off from Interstate 87 before re-merging just across the Essex County line. It is one of the largest towns in the county with Lake George, Queensbury and Glen Falls. It is a largely mountainous area of the Adirondack Mountains with ravines, lakes and winding creeks.
Not much is known about the town's history as much of it is contradictory and speculatory. It was generally believed the town was first founded by a group of Catholic missionaries who built a school on the west coast of Winchester Lake in the Early 1820s and later developed a limestone quarry and lumber mill. However, its official history begins when Nicholas Adams, a Dutch Presbyterian traveling north out of Albany for Burlington, Vermont ended up at the southern tip of Winchester Lake with a small group of settlers during a hard winter in 1787. While encamped in the area, he opened a small trader's post that was visited by travelers moving between Albany and Burlington. Originally, the small farming community that developed was called Adam's Lake. However, an alternate version purports that the small developing village was founded by a surveyor named Gabriel Hedison around 1790 who named it Ashford Falls after another local landmark, but this account has since been discounted.
In the 1840s, a gun factory built in the area brought more settlers to Adam's Lake, but the name Ashford Falls became more prominent as the village struggled through the hard winters in the area. In these days, the community was run by the local church elders at Ashford Falls Presbyterian Church, but it wasn't until the Civil War when 500 men from the area volunteered to serve in the Union Army that the town built its first city hall and courthouse to deal with gun runners and free slaves traveling between the United States and Canada. The first town mayor, Howard Crutcher, was nominated from the church council in 1867.
Another population boom resulted in the 1870s after the construction of the local railroad from New York to Montreal. The line was originally going to stop at Mill City which had a burgeoning lumber and limestone industry, but businessman Franklin Hedison in liege with unidentified parties insured the railroad stopped in Ashford Falls instead to profit his personal local businesses. As a result, Ashford Falls continued to boom as Mill City slowly slipped into decline, transporting lumber to Ashford Falls to ship it out of town. For this reason, the Hedison Family became known as contemptible in the area and not accepted by the locals.
Franklin's son, Lincoln Hedison, tried to reverse his family's image by opening the first building and loan company in town and launching huge housing developments in the 1900s and the 1920s, but the Great Depression hit his family hard, and they ended up living in one of the aging mansions they owned in Ashford Falls in 1933. He helped fund the new courthouse in 1946, much of the town square and Ashford Falls High School in 1953. During much of the 1940s, he had the Hedison Mansion built east of town as the primary family residence off Monarch Road. His son, Carter Hedison, however, directed the family fortune from banking and real estate into medical research in the 1960s.
Ashford Falls had its greatest prosperity under Mayor Lionel Creekmore during the Eighties by starting a tourism campaign to boost the economy and attracting tourists, opening the Ashford Falls Scenic Lookout natural park among other sites and registering a landmark bill that instituted the town square a local landmark to protect the architecture from heavy alteration and keeping it intact, turning the sleepy hamlet into a prosperous New York village. He also re-zoned sections of the town's outskirts to include the former Haverstraw, Wyckoff and Kirkeby communities for new sub-divisions to be built. It was during his term that there was a discrepancy discovered in the location of the county line on the west and east shores of local Winchester Lake, still known locally as Adams Lake, placing most of it in Essex County. Creekmore also signed off on a new Ashford Falls Courthouse to be built, converting the former courthouse into a hospital in 1986, but his liberal views were not appreciated by Carter Hedison and much of the town elite and they heavily favored Carl Griggs, a conservative judge from Schenectady to replace him in 1987.
During Griggs two terms as mayor, it is believed Carter Hedison exerted much of his will through the local government to gain more power. Part of this control was to re-zone parts of Kirkeby on Highway 12 that Creekmore had made residential to commercial so Hedison could build Hedison Pharmaceuticals and gradually increase his fortune. Griggs was not praised in the press as much as Creekmore had been and was often ridiculed by the local WTEN-TV News Affiliate run by the Ashford Falls Falls News. He was voted out of office in 1995 and replaced by Sabrina Collins, a young liberal lawyer from Albany.
Businesses
[
]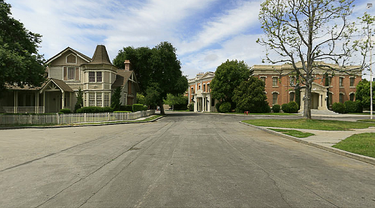 Landmarks
[
]
Winchester Locations
[
]
Beyond
[
]
Gallery
[
]
---