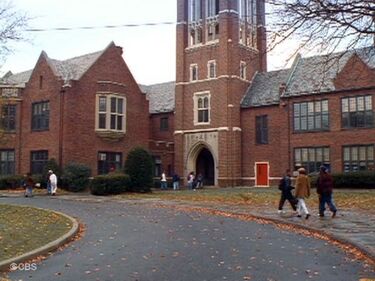 Ashford Falls High School is a six-year comprehensive public and private high school (Grades 7-12) located in Ashford Falls, New York, operating as part of the Warren County Public School system. The school also serves students from the outlying communities of Briarcliff, Heathcote and Southgate, providing adjacent campus housing for up to 150 students.
Located on a 26-acre park-like campus on Haverstraw Road, including a track and football field, exercise building and swimming pool structure adjacent to local hiking trails, the school employs 35 teachers for 900 to 1100 students, both local and from the county with a staff of twelve. The school also features special accommodations for teaching car repair classes and careers in television journalism. The school is probably best known for its football rivalry with Winchester High School in Winchester, New York.
History
[
]
Ashford Falls High School was built on the site of the Old Culbertson Mansion, which had served as the local high school from its founding in 1893 to October 15, 1953, when it burned down due to a lightning strike during a local thunderstorm. Local businessman Gage Winchester helped raised the funds to build the current structure along with donations from Lincoln Hedison and the family of Lionel Creekmore. Construction started in November 1953 under the direction and style of architect Arthur Birckhead who designed the Red Tudor style; it was completed in August 1954 with students attending classes in the former Ashford Falls County Courthouse in the interim. Birckhead would go on to rebuild the Hedison Mansion after a fire in the Sixties.
The school was originally planned to become a primary school for the Ashford Falls area, replacing Ashford Falls Preparatory School, but the prep school instead remained open until the Eighties when it was converted into a college-level facility. AFHS then adjusted to start boarding students from within and outside the county in 1983. However, when AFHS re-opened in 1954, it re-opened to 575 students and 22 teachers in a still as yet incomplete structure. The building was not carpeted, the library was empty, the AC system was incomplete, many classrooms were without desks and the athletic fields were almost non-existent. As result of a clerical error, most of the school furniture had been shipped to the community of Ashford Falls near Sugar Land, Texas. Most of these issues were rectified by time Rachel Hedison attended. The school is attended by students ranging from lower class, middle class and upper class families.
Over the years, the school has been the source of numerous rumors and innuendos, mostly unfounded. Danny Featherstone linked the low-quality of the cafeteria food to the hiring of former prison workers, Russell Coleman accused long-time Principal Cecil Borden of being a escaped Nazi General from World War Two and Melissa Strickland often insisted that portions of the original Culbertson Mansion were still intact in a "time warp" within the basement with the original 19th century furnishings.
Students
[
]
(1940s)
Jennifer Tidicutt

Anna Whaley
(1980s)