Jurassic World: Dominion Dominates Fandom Wikis - The Loop
Play Sound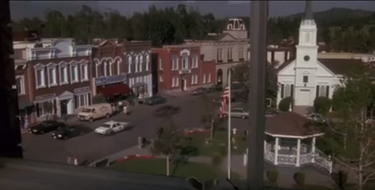 Ashford Falls Town Square is the center landmark of Ashford Falls, New York. It is a small block of open land with a central gazebo and flagpole surrounded by sidewalks and bushes used as a gathering place for special holiday and social functions. It is bordered by Main Street to the north, Winchester Road/Highway 12 to the east (at least until the Forties), Griffith Road to the south and Alley Road to the west. The businesses and locations off the square include the Hedison Realty Company, the Ashford Falls Post Office, the Ashford Falls Bank, the Ashford Falls Community General Hospital, Ashford Falls Pharmacy, Corrine's Beauty Shop, Ludlow's Candy Shop, Cunningham Hardware, the New York Delicatessen, Pierce Veterinary and the two buildings that exist as Donahue Boarding House separated from the First Congregational Church in the 70s. As many of these buildings were constructed before the Civil War, Mayor Lionel Creekmore passed a landmark bill to protect them from being altered from their original appearances or layouts. However, this revelation does not explain why the New York Delicatessen managed to violate the bill with its modern retro appearance.
It is also known that at one time Highway 12 was the eastern boundary of the square, passing between First Congregational Church and the Donahue Boarding House, but during Creekmore's time in office, he had Highway 12 widened behind the boarding houses and moved from Donahue Road to Winchester Road to deter traffic from passing through the square. As a result, the square was closed off from Highway 12 except for Griffith Road, and Donahue Road was cut off from Highway 12, instead turning into Main Street along the store fronts. The area where Donahue Road once connected to Highway 12 subsequently became filled by doctor's offices (now Pierce Veterinary).
The square is actually shorter on its Donahue Road side and wider on Alley Drive, becoming wider on Commerce Street behind the hospital. Griffith Road on its south end separates it from the residential district south of the square.