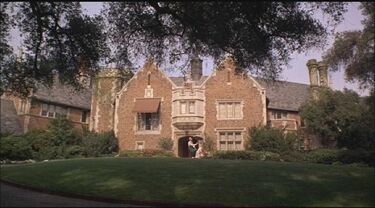 The Hedison Mansion or "Scimitar House" is one of the most expensive homes in Ashford Falls, New York. Located on Monarch Drive, it serves as the home of Carter Hedison and his children Rachel Hedison, Blake Hedison and Ty Hedison. It employs a housekeeping staff of seven, including Edward Ashworth, Marie and the chauffeur. Monica Hedison and Naomi Hedison have also lived here; Rachel once even gave Jack Gable the guest room at a time she was broken up with Dr. Paul Kirkwood.
Built in a Tudor/Gothic Revival style in 1928 by Lincoln Hedison, the structure boasts twelve bedrooms, six bathrooms, a grand dining room, a study and 16,599 square feet of living space, sitting on over five acres of land resting against Wyckoff Canyon. The grounds include a swimming pool, pool house, tennis court and a six-car garage hidden behind an eight-foot wall, trees and foliage. A fire in 1967 claimed parts of the house, such as the study, two bedrooms and parts of the dining room, but it was rebuilt by architect Arthur Birckhead, the architect behind Ashford Falls High School. During the construction, the Hedisons stayed at the Satterwhite Hotel.
Community content is available under
CC-BY-SA
unless otherwise noted.