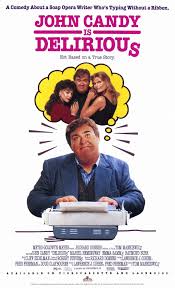 "Delirious" was filmed in New York City, New York (opening shots, lobby of Jack's office...), the Warner Brothers Ranch at Verdugo and Pass Avenues in Burbank, California (Ashford Falls exteriors), Universal Studios "Colonial Street" (hotel and park exterior), 380 South San Rafael Avenue in Pasadena, California (Hedison Manor gates and exterior), Sable Ranch (exterior lake and scenic outlook locations) and Santa Clarita, California (Jack's drive through the country). In "I Was A Teenage Mankiewitz," Tom Mankiewitz also mentions Mendocino as a location.
The opening shots in New York City start on the southwest end of Manhattan, the southeast end of Central Park with glimpses of the Solow Building, the Weil-Gotshal Building and the Muhlstoda-Asher building over to the Empire State Building and over to Times Square, focusing on the location of the old Sbarro's Restaurant at the corner of Seventh and 47th Street.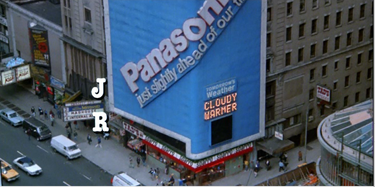 Buzz is the name of the Cable Guy in the opening sequence; his name is on the postcard sent to his mother
Emma Samms plays an actress named Laura Claybourne; she is possibly named for producer David Claybourne.
The Sherwoods were probably named for "Gilligan's Island" producer Sherwood Schwartz; both Lawrence J. Cohen and Fred Freeman worked with him on "Gilligan's Island" and "The Brady Bunch."
The lobby of John Gable's office building is the Credit Lyonnais Building at 1301 Sixth Avenue in New York City.
In the ladies restroom, Mariel Hemingway is reunited with actress Margot Kidder; four years previously, they both starred in the movie "Superman IV: The Quest for Peace" (1987).
Dylan Baker playing Ty Hedison also played Dr. Connors in the 1990s "Spider-Man" movies.
The scene where Jack (John Candy) and Rachel (Emma Samms) are getting ready to head to Vermont was filmed at the Worldwide Plaza on West 49th Street in New York City.
Jack Gable (John Candy) produces a rare Nat King Cole record that appears three more times in the movie. It plays in the deli for Jack and Janet (Mariel Hemingway), Blake (Dylan Baker) fans himself with it at the auction and it plays again when Jack returns to the deli at the end.
If Ashford Falls looks familiar, it's because it's the "Dukes of Hazzard" town square at Paramount. The hospital is a redressed Hazzard County Courthouse. It was also used in the "Gilmore Girls" TV series.
The Ashford Arms Hotel, Ashford Falls Presbyterian Church and Paragon Jewelers exteriors were once part of the Colonial Street set at Universal Pictures, best known from the series "Desperate Housewives" and the movie, "The 'Burbs." Sadly, none of the structures exist today.
Scimitar, the Hedison Mansion, is actually Wayne Manor from 60s "Batman."
Emma Samms confessed on Twitter that she, Rasche, Candy and Hemingway had horseback riding lessons for their scenes with the horses.
Dick Durock who plays one of the thugs Candy beats up also played the Old Hulk on the 70s "The Incredible Hulk" and the 80s "Swamp Thing."
A line was removed from the movie before it was released. When Rachel (Emma Samms) says, "I don't know what it is, but when I'm with him, I don't have a mind of my own," Blake (Dylan Baker) responded with "Maybe he's a Scientologist." but the line was removed to keep from getting sued by the Church of Scientology. 
The red sports car being auctioned is a replica of a Ferrari 250 GTO made from a Datsun 240Z by McBurnie Coachcraft, the same company that made the replica Ferraris for the "Miami Vice" TV series. There was reportedly two built for the series; one was sold to the Ripley's Museum then to the Volo Museum before moving to private ownership. The other vehicle if it still exists has not been located.
Jack's license plate on the Ferrari is Wolf-One. Dr. Paul Kirkwood's license plate is ASB-136. Janet DuBois's license plate is A03597.
When Jack appears in the Ferrari, the date is Saturday, April 14. He entered his TV show the day before on Friday the 13th.
The reporter at the lake is named Deborah Nordoff; this is probably as homage to television reporter and personality Deborah Norville.
In the scene at the party, where Jack and Rachel are dancing, John Candy and Emma Samms did the scene without doubles, although it was difficult to tell because of the distance from which it was shot. Emma Samms commented how graceful and talented of a dancer John Candy was, despite his size.
Singer Toni Basil of "Mickey" fame did the choreography.
The typewriter repair guy's shop is called Mill City Typewriter Repair.
Tom Mankiewicz also considered Jason Robards and Richard Widmark for the character of Carter Hedison.
The film reunites three actors from Planes, Trains & Automobiles (1987); namely, John Candy, Dylan Baker and Susan Isaacs. In both films, Isaacs plays a character named Marie.
The film ends with the credit, "The Ketchmers... Themselves" in the credits. John Ketchmer was the Assitant Director.
This was Raymond Burr's final appearance in a theatrical film.
The theatrical trailer has two clips of scenes that don't make it into the movie, namely Emma Samms in lingerie and a giraffe sticking its head into Jack's hotel room.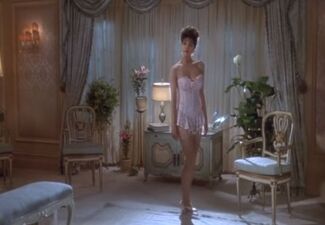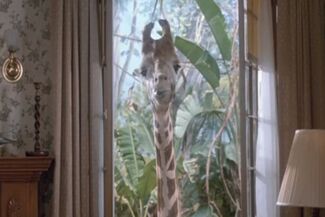 The expanded history of Ashford Falls on this site is based characters and incidents in "Dallas," "Dynasty," "Falcon Crest," "Flamingo Road" and "Dark Shadows."
Jack's career loosely based on the careers of TV directors Hal Cooper and Sherwood Schwartz.
Laura Claybourne was possibly named after "Delirious" producer and writer David Claybourne. Likewise, the actors that played Blake and Ty were named for writers Fred Freeman and Lawrence J. Cohen.
Laura Claybourne's career was based on that of Emma Samms, Pamela Franklin ("Legend of Hell House") and Julie Dawn Cole ("Willie Wonka and the Chocolate Factory").
Mickey Schwartz's career based on that of John Landis.
The two goons who attack Janet, Riley and Mason, their first names come from Bud Abbott and Lou Costello.
The names for the actors playing the half-brothers, Blake and Ty Hedison, their first names come from Oliver Hardy and Stan Laurel.
Maury Gifford's life based on Marvin Kaplan's roles in "It's a Mad Mad Mad Mad World" (1965) and the TV series "Alice" (1977-1985)
Louise was named after Academy Award winning actress Louise Fletcher of "One Flew Over The Cuckoo's Nest."
Carter Hedison's coma afterlife based on the time-traveling on "Dark Shadows" and Bobby Ewing's "Ninth Season Dream Sequence" on "Dallas."
Carter Hedison and Carolyn Strickland's replacement actors based on the actor turn-over on "Dark Shadows," "Dallas" and "Dynasty."
Jennifer Hood's career based on that of Zoe Trilling, Erin Moran and Christina Ricci.
Maddie Bouchard's career based on that of Ashley Tisdale. The character herself comes from the 2010 version of "Night of the Demons."
Gina Sterling and Donna McKenzie's careers loosely based on Jennifer Eichler, the Watson Pool Girl from Watson's Pools and Spas, commericals that ran between Indian, Ohio, Kentucky and Tennessee.
Several of the extended characters have been named after famous haunted houses.
Several of the extended characters have been named after roles from popular TV shows and movies.
Several of the actors for the extended characters have been named for "Our Gang" stars.
Several of the streets in Ashford Falls have been named for popular 60s television actors.
Cross-Overs
Edit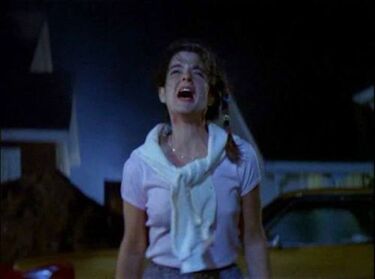 Tag Lines
Edit
Not Based on a True Story.
A Comedy about a Soap Opera writer who's typing without a ribbon
Mariel Hemingway is Janet - She's the perfect woman… but she's fictional.
Emma Samms is Laura - She's rich, she's beautiful, and she doesn't talk to people like you.
Raymond Burr is Mr. Hedison - The reason he's in this movie is a mystery only Perry Mason could solve.
David Rasche is Dr. Kirkwood - A doctor who believes malpractice makes perfect.
Dylan Baker is Blake - He's the weak son who might not last a week.
Charles Rocket is Ty - Evil, cunning and ruthless… And he's one of the good guys.
See it soon. It might not be on video-cassette for months.
Music Score
Edit
"Delirious" - (plays during opening NYC montage)

Written by Prince (as Prince Nelson)
Performed by Prince
Published by Controversy Music
Administered by WB Music Corp. (ASCAP), Courtesy of Warner Bros. Records, Inc. By Arrangement with Warner Special Products

Toy Parade (aka the "Leave it to Beaver" theme) (Plays when Jack discovers Ashford Falls)

Written by Dave Kahn (as D. Kahn), Melvyn Lenard (as M. Lenard), Mort Greene (as M. Greene)
From the album "Television's Greatest Hits - Vol.I"
Published by Marlen Music Co. (ASCAP), Courtesy of TeeVee Toons, Inc.

Hungarian Rhapsody #2 in C-sharp Minor (played by Jack Gates at Rachel Hedison's party)

Written by Franz Liszt
Performed by Leonard Pennario
Courtesy of Angel/EMI, a division of Capitol Records, Inc. By Arrangement with CEMA Special Markets

"It's a Man's Man's Man's World" - (plays during Jack and Rachel's dance)

Written by James Brown and Betty Newsome
Performed by James Brown
Published by Dynatone Music
Administered by Unichappell Music Co, Inc. (BMI)/Clamike Music Co. (BMI), Administered by Mietus Copyright Mngt., Courtesy of PolyGram Special Products a division of PolyGram Records, Inc.

Sweet Lorraine (played by the jukebox in the West 57th Street Deli)

Written by Mitchell Parish and Cliff Burwell
Published by Mills Music, Inc. (ASCAP)

Beyond Our Wildest Dreams (closing theme)

Written by Jim Peterik (as Jim Peterick) and Cliff Eidelman
Performed by John Melnick
Published by Easy Action Music (ASCAP) and U/A Music, Inc. (ASCAP)
---
Community content is available under
CC-BY-SA
unless otherwise noted.