We're Getting Mutants in the MCU - The Loop
Play Sound
"I don't know what it is, but when I'm with him, I don't have a mind of my own." - Rachel Hedison

Rachel Hedison is the heiress of Hedison Pharmaceuticals and the daughter of Carter and Monica Hedison of Ashford Falls, New York. She has one brother, Blake Hedison, and a step-brother, Ty Hedison.
Born in Ashford Falls, New York, Rachel is the daughter of pharmaceutical magnate Carter Hedison and hotel heiress Monica Winchester, daughter of Gage Winchester, who built the Winchester Hotel north of Ashford Falls in 1908. A widow with an infant son named Tyler, Monica met Carter during a party at her father's hotel in 1958. Her father encouraged the relationship, and the two married the following year. They had two children, Blake Hedison was born in 1959, and Rachel was born in 1960.
Ironically, Rachel was born the same day as local girl Janet DuBois with whom she had a rivalry with later in her life. Janet's mother, Louise DuBois, had a long history of mental depression and feared she would not live long enough to raise Janet. She convinced her close friend, Lisa Caldwell, a nurse at Ashford Falls Community General Hospital, to swap the infant Rachel with Janet so that no matter what happened to her, she knew that Janet would receive a decent upbringing. However, Monica Hedison eventually became aware of the switch and befriended Louise to swap their daughters back, placing enough money in a bank account that Janet would get an upbringing and schooling equal to Rachel. When Louise passed in 1975, Monica attended her funeral.
Monica, meanwhile, had now started to realize her marriage to Carter was falling apart. Suspecting Carter only married her to conceive a male heir, she tried to defend Ty's outbursts against his stepfather, but Carter eventually retaliated by sending the boy off to reform school. Monica then abandoned Carter and left Ashford Falls, flying to England where she had relatives, but Carter hired former detective Dash Andrews to abduct Blake back, his lawyers complicating their following divorce and custody procedures for several years.
Raised in England, Rachel was schooled at the affluent Abbotfield School for Girls in Knightsbridge where she picked up the British accent in her voice. She studied dance but was rejected for being too competitive. She grew up listening to the stories of her father's corruption from her mother for years, developing a hatred of Carter Hedison that paralleled that of her mother. She also became incredibly opportunistic, willing to do anything and destroy anyone in her path for what she wanted. When Ty turned up in Ashford Falls in an attempted murder on Carter Hedison, Rachel convinced her mother to finally return home and confront her father to finally push through the divorce. In reality, Rachel wanted to strengthen her hold on her inheritance from her father and eliminate Blake from his share. Meanwhile, Carter was already in a deal to extract controlling shares in the BloMart Medical Company in Albany run by Phillip Martin. Martin, meanwhile, found himself increasingly attracted to Monica and started courting her. As Martin realized Carter was planning a hostile takeover of his company, he threatened to take him to court, and Carter once again hired Andrews to murder Martin. Slipping into the Ashford Arms Hotel, Andrews murdered both Monica and Philip, staging it as a murder-suicide. The incident contributed to Rachel's hatred of her father and she vowed to bankrupt him. Faking her grief, she moved back home as the dutiful daughter to plot her next move, finishing her schooling at Ashford Falls High School alongside Janet DuBois, Len Snedeker and Lisa Caldwell's daughter, Helen Caldwell along with Jessica Witherspoon and Monica Baldwin, who became friends with Rachel.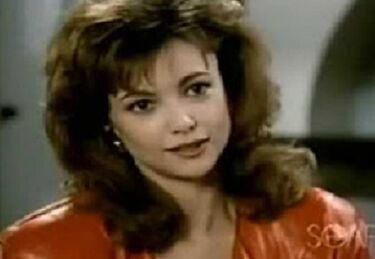 In her ploys for money and power, Rachel rewrote the terms of her mother's will, gaining half custody of her grandfather's old hotel, which had closed down years before, from Blake. She did so believing that Ty had died sometime before while in reform school, giving herself his share. She also moved ahead to stage Blake's demise, hiring local muscle to stage his death. The muscle she hired, however, turned out to be Ty, her half-brother, who she failed to recognize after several years apart. Manipulating him with offers of sex, Rachel managed to string him along for a few weeks while dating Dr. Paul Kirkwood, the local physician. Her relationship with the local doctor was good for her image in the community along with her charity work for the local hospital and library. Meanwhile, during Ty's amnesia following his institutionalization, he recalled some sort of attraction for Rachel that went unfulfilled. In her relationship with Paul, Rachel often collided with Helen Caldwell for Paul's affections and forced him to pledge to marry her to keep them apart.
Despite her opportunistic drive, Carter heavily doted on Rachel and often relied on her as an accomplice in several schemes. However, he never suspected her duplicity or treachery until his heart attack and collapse on a business trip in Albany. During his resulting coma, he dreamed himself into a mental pseudo-reality where Monica was still alive and Rachel was a vicious rival trying to seize his business. Much of this dream reality was influenced by events Blake told his father during his coma, and as a result, after his coma, Carter truly began to suspect Rachel to be much more unscrupulous than he suspected.
In 1991, Rachel was pursued by yet another male admirer, Jack Gable a writer from New York City. Although she had at previously dismissed him upon meeting him, she was rescued by him during a horseback ride with Paul that went awry. Confusing Jack for Manhattan magnate Jack Gates, Rachel allowed Gable to pursue her but only to use him to get custody of medical patents that belonged to Janet DuBois although she eventually started to his desire his reputed large fortune as a supposed billionaire. In an effort to ruin Rachel's reputation, Helen tried to re-awaken the alleged baby-swapping her mother had attempted years earlier, but Janet was accidentally shot by Blake trying to kill Rachel. During the surgery to save her life, Janet's blood type revealed it was impossible for her to be Carter Hedison's real daughter, debunking Helen's claims.
Tiring of Rachel's selfish desires, Paul gradually began to turn against her and cancelled their wedding plans. For revenge, she distantly sent Len Snedeker, the recipient of a recent sex-change operation, to complicate Paul's relationship with Helen. However, as Rachel was crossing main street following a scene at the West 57th Street Deli, she was struck and knocked unconscious by Danny Featherstone a returning Ashford Falls native driving Jack Gable's old Ferrari left in town.
Although Paul had declared Rachel dead, she remained in a coma for several months. Carter had her sent to a private hospital on Long Island where Rachel gradually came out of her condition after a year and paid off Dr. Stewart Harding to keep her recovery a secret. From afar, she learned how Paul had married Helen and how her father had endorsed Carl Griggs into the office of Mayor of Ashford Falls for personal favors in her five-year absence. Through Harding's assistance, she met and wooed the elderly Tate FitzGibbon, marrying the octogenarian and seizing his company, Alliance Industries on his death. She then created a fake company know as the Dynasty Foundation to start buying up shares in Hedison Pharmaceutical while privately funding mayoral candidate Sabrina Collins, Griggs's rival in his 1995 election. Re-opening her mother's murder to ruin her father's reputation, Rachel also discreetly introduced Ty to William Samuelson, the illegitimate son of Dash Andrews to reveal the truth of their mother's murder to him, but it backfired when Ty's amnesia broke and he attempted suicide. Having expected Ty to help her in ruining her father, Rachel was forced back to Ashford Falls ahead of schedule, reuniting with Paul and Janet at the hotel. The two of them then joined forces to wreak havoc on Rachel's plans. Although Collins was elected mayor over Griggs, Janet joined forces with Blake to force Rachel to sell more shares in Hedison Pharmaceuticals which they then bought. Although Rachel had by now seized control of her father's company, she soon became aware she was no longer the chief stockholder. With Janet and Paul's stocks rising under the restored prices, they now had control of the company and ousted Rachel from control.

Gallery
[
]