Jurassic World: Dominion Dominates Fandom Wikis - The Loop
Play Sound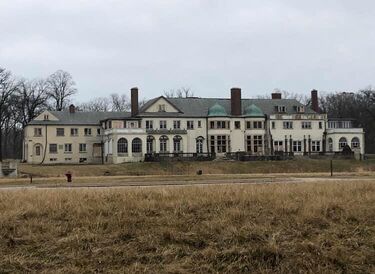 The Tangled Vine Bistro and Resort is a restaurant and inn located on Wyckoff Road in Ashford Falls, New York. Once a private residence, the structure has two floors, an attic and a full wine cellar with a main hall, dining room and a modern restored kitchen with bedrooms upstairs available to travelers and tourists. Twelve bungalows on the property are used to rent out to guests.
Built sometime in the 1840s, the structure was once owned by a family with investments in the coal and railroad industries. The family also owned much of the land from Wycoff to Monarch Road, but for unexplained reasons, it was abandoned by the 1900s. Through Prohibition, it was transformed into the Vine Valley Hotel and was the scene of parties, often frequented by reported Mafia-type figures before it was shut down by the State Police for selling illegal whiskey. Bradley Larabee reportedly explored the abandoned edifice in his youth. It reopened as the Tangled Vine in the 1960s through Richard Bobbitt, a hotelier from nearby Albany, who hired a chef named Raoul Fournier as his chef. Through the Sixties to the Eighties, the place was very popular and successful among locals and tourists through Fournier's intercontinental dishes and wines. In the history of the bistro, Bobbitt's daughter, Candace, married Fournier, and they had a daughter, Simone Fournier. Unfortunately, Candace died in 1986, and Fournier himself in 1991. Without him, the structure struggled until 1993 when it partially closed down.
Margaret Bobbitt, Bobbitt's other daughter, inherited full custody of the mansion after her father's death. Having lived there since her youth. she hired Raoul's daughter, Simone Fournier, a talented chef in her own right, to run the kitchen and start a catering business from the mansion to restart the business. To open the estate, she contacted an investor named Bruce Abernathy to help fund the re-opening and hired a contractor named Wesley Coleman to undertake repairs. Along with Kai Momoa, a Jewish-Hawaiian struggling singer as a messenger to handle deliveries, the structure has partially re-opened, having catered Sabrina Collins's run for mayor in 1995 and parties at the Hedison Manor. Bobbitt also rented the main hall for weddings and private parties.
Although still struggling to get the limelight of former success, Simone's talent with the use of her father's old recipes has reopened the bistro part of the structure. Margaret Bobbitt has been opening the old bungalows to guests with Coleman's help, but she is not seeing the fortune from the site's hey day. In 1998, Melissa Strickland showed up doing research on the old Native American burial grounds on the property.