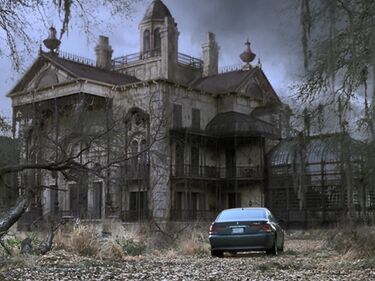 Thornewood Hall is a forty-room edifice located somewhere in Haverstraw Canyon in the vicinity of the Kirkeby Community in Warren County, New York, although some references erroneously place it in Hamilton County. It's exact location is unrevealed, but it is located somewhere southwest of Ashford Falls, New York at the top of a steep private road off Route 33. Designed in French Renaissance-Revival Châteauesque style with high ceilings, long halls, baroque furnishings and stained glass windows with a ballroom and attached greenhouse, the castle-like structure sits on almost seventy-five acres of woodlands, creeks, rolling hills, bordering structures and ravines bordering cliffs and the nearby Kirkeby Cemetery. Local youth Bradley Larabee, a local urban explorer, tried exploring the house in 1986, thinking it was abandoned, instead meeting Elizabeth Woods as a result.
For several years, Thornewood has been the residence of the Woods Family, one of the founding families of Ashford Falls with the Satterwhite and Crutcher Families. It is believed to have been constructed around 1765 and 1770, but this account is debatable as the official town history begins in 1787 with the records of Nicholas Adams. According to a lengthy and often confusing family history, the mansion was built by Gerard Woods on property granted to Isaac Woods, a surveyor, on Thornewood Creek, now known as Coogan's Creek. Having made his fortune as a lawyer and magistrate in New York City, Woods wanted his family to be as little reliant on others as possible so he designed the house himself and hired a contractor and workmen to construct it near Kirkeby. By some accounts, his family were friends of the Kirkeby Family, who lived in the area and later with the Crutcher, Satterwhite and Hood Families. Increasing his wealth in lumber and gun manufacturing, he was one of the wealthiest men in upstate New York in the 1790s.
Sadly, Isaac Woods passed away in 1795 before the mansion was finished, and his son, Joshua Woods and his wife, Nancy, were its first known residents. They had five children consisting of their sons Josiah, Barclay and Daniel and their daughters, Rebecca and Sara. They further expanded their wealth by buying up the surrounding lands, some of which was acquired by Lincoln Hedison in the 1930s and 1940s, and by opening a horse ranch, the predecessor of the Ashford Falls Riding Stables. However, despite their wealth and advantages, they suffered several tragedies. Josiah was killed in a duel after eloping with a rival's fiancée, both Barclay and Sara died from fatal sicknesses and Rebecca took her life for unknown reasons from Whistler's Rock, siring a romantic ghost story that has persisted in the area for several years.
Despite Daniel surviving the fatal diseases that took two of his brothers, Nancy Woods believed the area was cursed and compelled Joshua to move away from the house. Departing town, they also adopted Barclay's illegitimate son, William Woods, concieved out of wedlock. They abandoned Thornewood and moved to North Tarrytown (now Sleepy Hollow, New York) where they took over custody of Greystone Hall, later left to relatives of the Collins Family who named it "Collinswood," after their ancestral manor in Maine. Thornewood Hall, however, remained abandoned and neglected until William's grandson, Quentin Woods, inherited it and restored it. Joined by his wife, Roxanne, and children, Jamison and Sarah, he was soon joined by his siblings, Judith, Rachel and Desmond, as well as by David's grandsons, Edward and Gabriel. Edward even founded the local Skull and Bones Society during his time here. Between 1865 and 1869, they were joined by other relatives, Barclay Woods III and Julia Woods, reputed relatives of their ancestor from England on sketchy evidence that Barclay had actually survived his illness and later moved to England. According to Elizabeth Woods, their evidence was based solely on intimate knowledge of the family tree and possession of several lost family relics. Nevertheless, shortly after their arrival, there was another series of fatal illnesses, many of which resulted in sudden deaths. Roxanne Woods, however, was very much into Spiritualism, and often had seances in the house, starting a recurring theme in belief in the afterlife through the family. There was also a series of attacks in town that went unsolved and continued a few months after Barclay departed town with Angela De Fontaine, Gabriel's long-time love, believed to be the reincarnation of a lost love.
Despite a public perception as scoundrels and hermits, Quentin's grandson, William Woods, started a yearly tradition of cotillions to raise money for local town charities by inviting local businessman to Thornewood. In doing so, he became friends with Lincoln Hedison, Gage Winchester, James Gratz and Frederick Loren among the local businessmen. The parties were continued through the 1990s and 2000s by his daughter, Elizabeth Woods, who had a frivolous lifestyle in her youth and had a daughter, Monica Woods, out of wedlock. She was once married to Thomas Pritchett, the son of a local politician, but the marriage wasn't happy, and he abandoned her and their daughter, Carolyn Woods. Her other relatives include her brother, Robert Woods, his son, David, and Watson Pritchett, Thomas's opportunistic nephew. In 1986, she was joined by Barclay Woods IV, another descendant of the family from London.
Shortly after Barclay's arrival, there was a series of attacks and murders identical to the cases in 1869 which were investigated by Sheriff David Carmichael in the first year of his job. The accompanied illnesses attracted the attention of serologist Dr. Samantha Oh from the Duffy Medical Center in Albany, and she stayed in the area as a family physician to the Woods Family and as a consultant at Ashford Falls Community General Hospital long after the murders ended, getting a cottage to live in on the Thornewood Estate. However, in 2005, would-be paranormal researcher Melissa Strickland and former actress Jenny Turbeville found speculatory evidence that both the the 1869 and 1985 attacks as well as the illnesses in 1795 were the aftermath of vampire attacks through Upper New York and New England. Despite Carmichael humoring them along, Strickland and Turbeville became convinced that Barclay Woods was the vampire behind all sets of the deaths through the history of town, including that of Lindy Benson, but they had to end their investigation unsatisfactorily after Barclay proved impervious to sunlight and religious artifacts at his wedding to Victoria Luckweather, his formerly estranged wife.
Over the years, the mansion has long been one of three reputedly haunted houses in Ashford Falls along with the Old Trout House and possibly the Hathaway Mansion. Two of the ghosts reported over the years by various family members and guests were that of Veronica Luckweather and Sara Woods, who appeared to many of the Woods Children over the years, even to Elizabeth Woods as a young girl in the Forties. Phantom servants and a spectral priest have been reported as well as a headless figure in the family cemetery. In the Late 80s, the family encountered the ghosts of Quentin Woods and Bridget Collins, two spirits from the 1890s who were far more sinister than any other previous activity on the estate. A year after their appearances, portions of the estate seemed to be "shifting" into other realities or alternate timelines, giving views of individuals in other parallel words, but these occurrences seemed to eventually come to an end.
Gallery
[
]